Google might have created the Android operating system as well the Chrome OS, but there are subtle differences which does not get you Google Play automatically on the Chrome interface. The Android OS has evolved over a decade by now while Chrome OS is a relatively new launch by Google. The Chromebook that Google launched was probably a response to the trend seen in most people requiring an easy web browsing laptop that did not need much of anything else. Accordingly, the Chromebook that was launched by Google, features the Chrome web browser as the main application or interface and there are a handful of apps that make browsing easy along with a versatile cloud storage feature.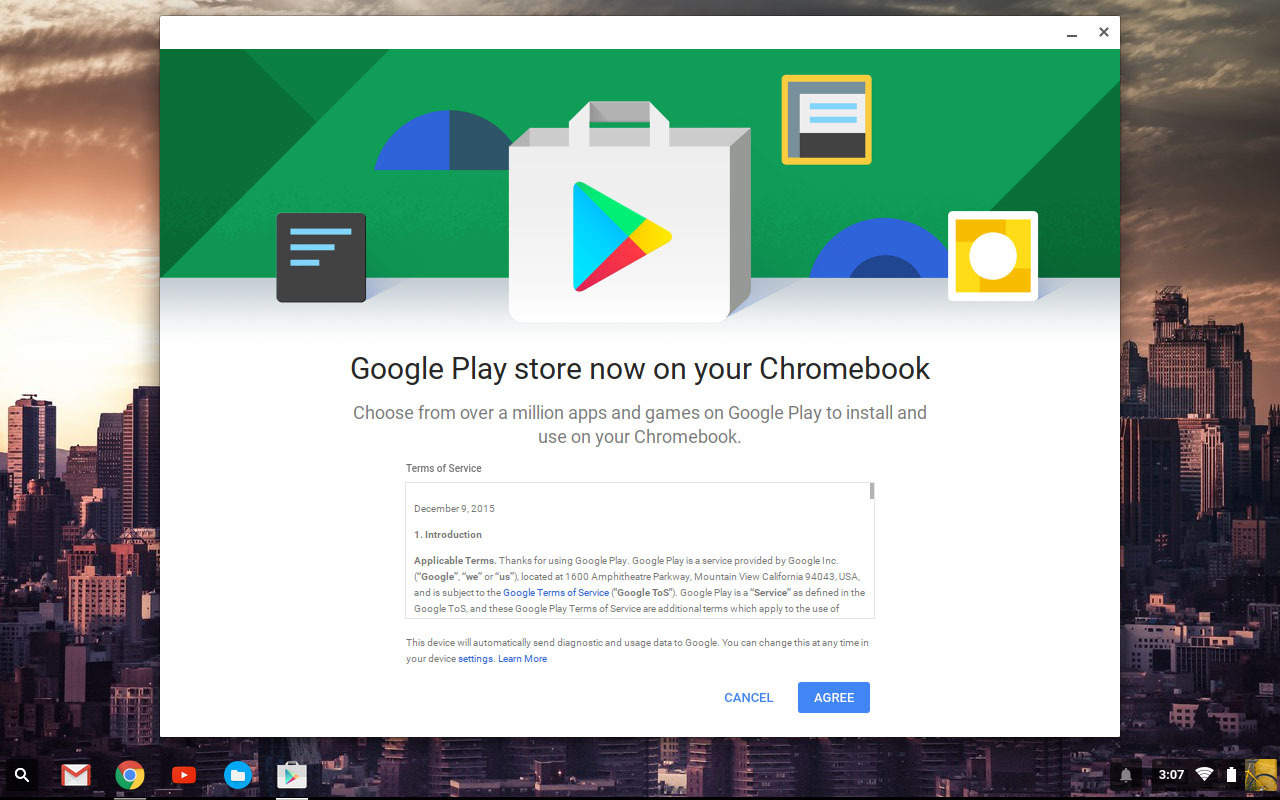 The Chromebook is known to run different Chrome apps, web apps and browser extensions. There are certain versions of Chrome OS released that can support Android apps; hence, if you own such a version you would already have Google Play on this device or find it easy to simply download and install the application from a trustworthy online source. Acer and Asus Chromebook along with Chromebook Pixel of Google are some of the Chromebooks that can run Google Play Store. For the Chromebook versions that have been launched this year, you will not have a problem running Google Play Store on such devices.
When you log onto your Chromebook, ensure that the device is running Chrome OS version 53 or any other version that has been launched later. When you visit the settings option here you can find a section called About Chrome OS where these details are mentioned. It would be good that you update your Chromebook OS before you get started. Hence, click on the button that checks for updates and applies the same and then restart the machine to allow the updates to become operational. Other steps to get Google Play working on your device are as follows:
There is an option in the Settings section that points to Google Play.
You need to check on the option to enable Google Play Store on your device.
Agree to the terms and conditions in order to continue.
The Google Play Store app will then open and you might have to agree and set up certain terms to continue.
In case one does not have Google Play Store already installed, you need to upgrade your Google Chromebook to version 53 or above.
Once the right OS is present in your device you will find it easy to locate the APK file of Google Play of the right version that would be compatible with your Chromebook.
Once Google Play Store is installed on your Chromebook it would act as any mobile Android device. As Chromebook offers a compatible environment on which you can run Google Play Store, you will not have to limit yourself to running the program with an emulator program as in the case of Windows based computers. The Google Play Store that is downloaded is compatible with Chromebook. Hence, you will get the following benefits with this app:
Apps that are compatible with the Chromebook version you have.
You will be instructed on how to download and install different apps.
You would be asked to start by linking a Google account with the Play Store.
This will allow you to choose any kind of app to download, whether free of cost or paid.
You can add payment details on your Google Play Store account which will allow you to purchase apps easily.
Google Play Store offers access to different kinds of Android apps. The app marketplace as run by Google, offers a platform on which the apps that are made available are verified and checked to ensure that they are free of malicious software. This app provides access to apps of different categories.
The process that you follow to install Android apps on Chromebook from Play Store is similar to how you would do it on an Android device. The interface of the Play Store is optimized for viewing it on the larger screen of Chromebook. Hence, you will have the great pleasure of viewing the different apps and their details on a larger screen.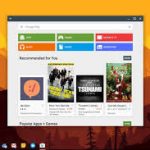 Features of Google Play Store on Chromebook are as follows:
The app is modified to give you the optimal viewing on a larger screen.
You can view the ratings of the apps and the different categories on the app store interface.
Once you open the play Store, you can choose to browse the main categories as showcased on the main page or choose to search for a particular app by using the search option.
When you choose to download an app you will get to see screen shots of the app, reviews of other users and the ratings they provide.
When you download apps through Google Play Store, you can also manage the apps through this interface.
The above points highlight the benefits of Google Play Store on Chromebook. As it is built for easy web browsing, you will enjoy using apps downloaded through Google Play Store. You will enjoy the enhanced screen resolution in which you can enjoy the games and entertainment apps; reading the eBooks would be a pleasure on this device and so would be using multi player real time games. These are some of the several instances which showcase how one can use Google Play Store on their Chromebook and reap the benefits.