Google Play store was formerly known as the Android Market. This serves as a digital distribution framework which is run by Google. Today it is the official app store as well for the Android operating system. Users are able to download applications as well as browse them on this platform. The applications are developed using the Android software development kit. It is the digital media store there are apps such as games, movies, music, books and TV shows that can be downloaded from this forum.
Google Play offers several features such as:
The applications downloaded from this forum come at a price or are free.
This is an Android application itself that comes pre installed in many Android based mobile devices like tablets or smart phones.
The applications that can be downloaded through this platform are third party applications of different categories which are reviewed and checked by Google before downloading.
The applications can be downloaded only for linking a Google account of the user; the same account can be used to link Google Play on more than one Android device.
The app not only acts as a downloading platform for different apps, but can help one manage and update apps as well.
Notifications and scans are done with Google Play to keep apps safe and working well on this platform.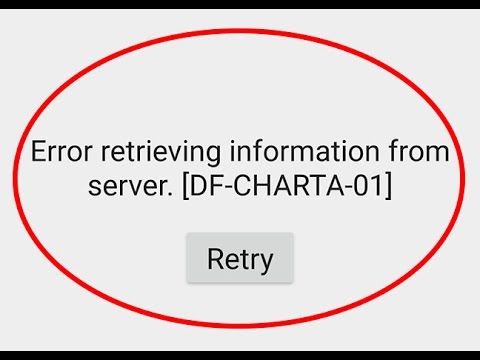 There are different versions of Google Play app as well. You can have the dedicated Google Play Games, Google Play Music, Google Play Books, Google Play Movies and TV shows as separate apps on your device. These apps have these categories dedicated to their platform and allow users to browse and download free or paid apps through a single Google account.
As most Android device users are dependent on Google Play it becomes a problem when error messages show up on Google Play. The error messages usually show up when an app is being downloaded installed or is being updated; often the error messages might not allow users to look and browse through Google Play mobile interface. The errors can arise due to different causes and often error messages or codes are displayed that can confuse the users.
An error message that is often shown by Google Play is error df-charta-01. The error message often reads as error, while retrieving information from the server. This message often shows up when one is browsing Google Play store. The steps that one can take to get rid of such error message are illustrated below:
Often the problem is solved when the cache and data is cleared from Google Play store.
To do this, one needs to visit Settings in their mobile device.
Here one will find the Applications Manager section.
Find Google Play store here.
When you click on this section you will find the option to clear cache.
When this is done, one can go to Google Services Framework.
Here one can perform the same function and clear cache and data.
When the cache of Google Play and Google Framework services are cleared of data, you will find that Google Play store works better. In certain cases, though, the problem might still persist. Then you will need to do the following:
Remove the Google account that is linked to Google Play.
Recreate the account after restarting the device.
The above step often works at times when the app lands in errors and problems. One could also uninstall the app and install it manually. The following steps need to be followed:
Uninstall the app from the mobile device. This can be done by resetting the OS to factory settings, prior to a stage when Google Play was not part of the device.
Turn on Wi-Fi or mobile connectivity of the device.
Log onto mobile web browser on your device.
Here you can visit a search engine like Google.
Find the APK file in Google Play store which is of the latest version and compatible with your device.
Once the APK file is downloaded, allow the installation to take place.
If the app is being prevented by security settings for being installed, check the box that allows installation from unknown sources.
Once Google Play store is downloaded, you can then make it the default download platform for Android apps on your device.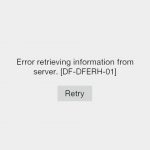 Google Play store when installed manually needs to be started anew. You would be prompted to create a Google account and link it to Google Play. Once the account details are verified, you can resume downloading apps from it. The store usually works fine when it is reinstalled. It is also recommended that you add on the updates that are issued for it from time to time. These are free and will keep the app working fine and without any problem. It also ensures that the apps you download from this forum are safe and free from malware.
The above steps showcase how you can get rid of an error message that shows up and prevents you from using Google Play store. It is necessary that you keep the app updated and working fine as it acts as the gateway for all apps to be downloaded to your device; it also helps you manage all the applications that you download to your device. You can update apps as required through Google Play. It is important, however, to clear cache and data from time to time to prevent Google Play problems. It is also important that you keep Google Play on your phone memory and the apps that you download on it. Often errors arise when memory or storage capacity becomes low. The above points will help one to know how to use Play store properly and keep it in proper working condition.