After showing its capability in eCommerce sector, Amazon.com has jumped to developing latest gadgets. The Fire Tablet which is popularly known as Kindle Fire is developed and designed by E-commerce giant Amazon.com. In the year 2011, it has initially launched the Fire Tablet which was seven inch multi-touch display fostered with IPS technology and running with Android Operating System. In the next subsequent years, it has launched different models like Kindle Fire HD, Fire HDX, Fifth Generation Fire 7 and Sixth generation Fire HD 8. It is constantly in an attempt to provide next generation experience on telecommunication.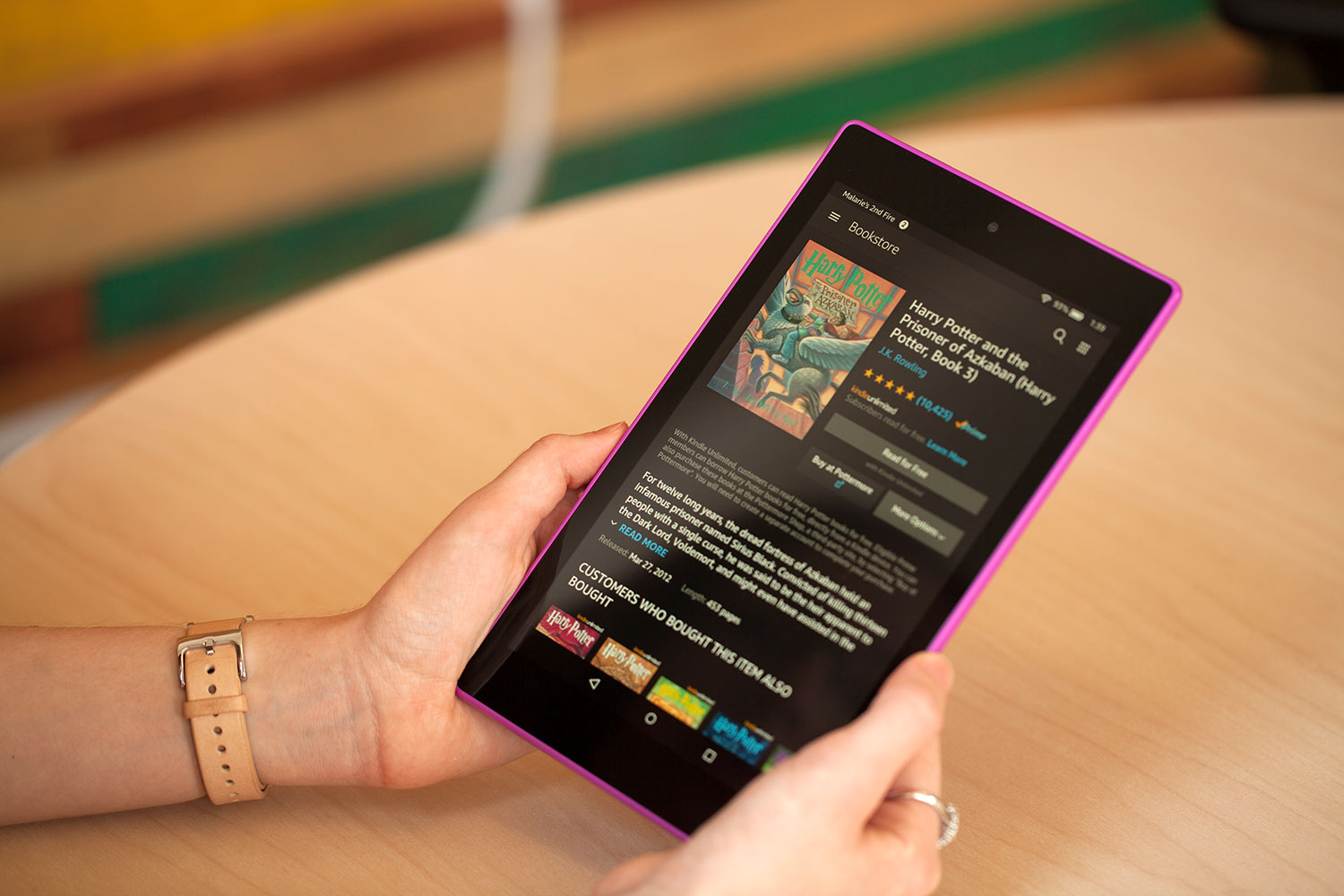 About Amazon Fire HD 8
According to many users, Amazon Fire HD 8 is a performance based device that provides maximum option to the user for a better operating experience. According to critics, Fire HD 8 is designed to meet all the requirements of the customers around the world. Most these kind of tablets are available in black, blue, yellow and red color. So it entirely depends on the user to choose which color he wants. Its screen comes with 8.4 inches by 5 inches and half inch thick. This is the reason for which maximum young people really love to purchase this iconic device for their own.
Its LCD display is 1280*800 pixels and provides maximum 189 pixels per inch which is enough its kind. Major tablets, fail to maintain this kind of clarity which is another feature that makes user satisfied. No matter whether you are reading magazines, playing games or watching any video, this high resolution will make you overwhelming.
Designers have properly placed the speaker and button placement those are able to easily answer any question. Dual stereo speakers are on the button as a result, you won't face any type of issues while this device is landscape or moving to portrait. All these designed speakers make you sure that, you are getting the right balanced sound quality while playing games or watching any video.
It has 1.3GHz quad-core Mediatek Processor, which is run by 1.5 GB RAM. This configuration made the job done. When you are trying to install your own apps, there will be no issues created regarding slow the shutters. Normally, Fire HD 8 is loaded with different apps those are opening quickly. Magazines, books and different media are fast enough compared to other tablets in the market. According to experts, it provides Wi-Fi connections of 2.4GHz and 5GHz. This is efficient of its kind. People, those want to store more, Fire HD 8 is perfect for them. It comes with 16GB and 32GG storage capacity and if you want more, then just insert a MicroSD.
Fire HD 8 is running with Fire OS, which is known as based off Android. This is the reason, a user gets more flexibility while operating compared to different Android device. People, those are well experienced to spend time with Google or Apple services; they will get a different charm from these tablets.
Why Google Play Store?
Million people around the world those are using smart devices like smart phones or tablets; they want to get updated with the latest technical advancements. This is the reason; they always look forward to install some cool apps by which they can simplify their daily work. Needless to mention, Google Play Store is such kind of iconic app which is the platform of more than two million apps along with game and eBook. Various audio and video files are there which are can be purchased from Google Play Store.
Most of the Android devices come with Google Play Store as prior product. There is no need to install them later. In this case of Fire HD 8, it doesn't have any Google Play Store pre installed. This is the reason, if any user wants to install it separately; it is possible to download with APK file.
How to download Google Play Store in Fire HD 8
Before downloading, you need to prepare your device to accept files from unknown sources. To this you should go to Device setting> Security> Enable the box to allow files from unknown sources> then there will be a warning appear> hit ok.
Now your device is completely ready to accept files from unknown sources.
Go to your Silk browser and in the address bar write Google Play Store download.
It will show you a bunch of links associated with various websites.
Choose the trusted links and hit on download.
Before going through this download process, make sure that your device has a data connection.
After tapping on the download link, now you can see the APK file has been downloaded and saved to your device.
Now, close Silk browser and open the built-in file manager.
Go to Docs that you have seen at your fire tablet.
Tap on local storage.
Now, click on download folder.
You can see that the APK file has downloaded.
Simply tap on it and within a couple of seconds, Google Play Store will be installed.
Install Google Play Store with external devices
If you don't want to install Google Play Store by your own device, this job will be easily done by different devices. Suppose you have a PC, you can easily download and install that through it.
Now, go to a PC browser.
In its address bar, write Google Play Store download.
You will significant number of websites offering Google Play Store.
Choose the trusted source and click on the download link.
Within seconds, your APK file will be downloaded and saved on its download folder.
Now connect your device with the PC with the help of Bluetooth or USB cable.
After connecting, now transfer the APK file you have downloaded.
Once transferring is done, now come with your device and locate where that file stored.
After locating, you can now simply tap on it and within seconds, it will be installed.
After installation, reboot your device and now you can see the Google Play Store logo on your home screen.